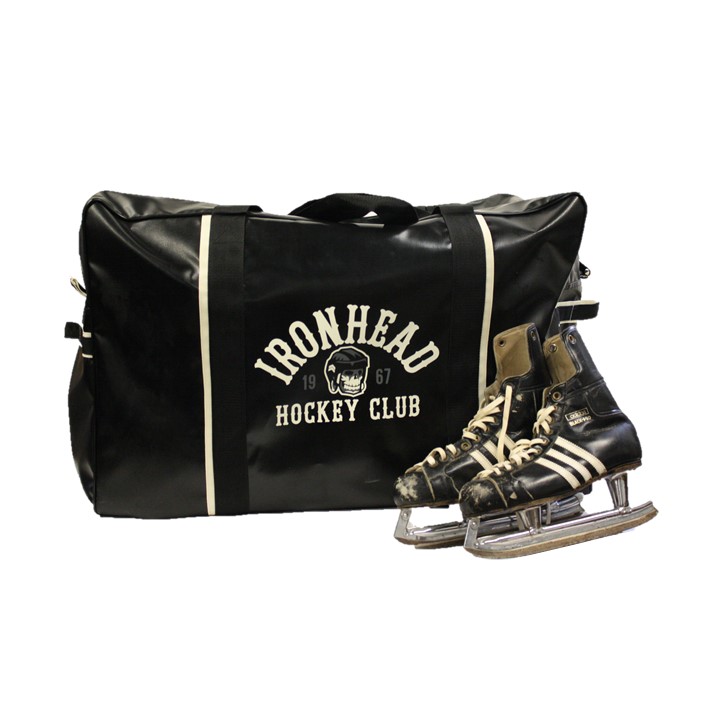 TRUNKSLAMMER HOCKEY BAG
DESIGN: We play hockey, we coach hockey, we live in arenas - so it's no surprise we have a pointed opinion about what makes a good hockey bag: roomy but trunk friendly, takes a beating, pockets in the right spots and, most of all, no wheels. Ever. Real hockey players carry their gear over their shoulder. We're purists in that regard. The Trunkslammer doesn't make a frothy cappuccino or stand up on one end, but it does stand behind a 10-year Tough Canadian S.O.B. Guarantee. Try finding that in a wheelie bag.
PRODUCT: Made from PVC and measuring 20" high x 32" long x 16" wide, the 'Slammer is made to optimize available trunk space in your vehicle and valuable floor space in the dressing room. Despite its retro styling, there are modern conveniences - two inner pockets for skates and whatnot, a plastic ID pouch and, most importantly, a 10-year "No Rip" guarantee on construction.
SHIPPING: This product ships FREE when you use the code FREESHIP99 at checkout.
Only 4 left in stock